AP Global has raised the bar of technology by developing new products using path-breaking technology. Newly developed products are suitable across all the geography varying in weather condition and application practices. Various application practices are getting captured through robust U&A (Usage and Attitude study of painter and consumer) market study. This includes high humid tropical region like Indonesia, Sri Lanka, and Bangladesh to regions having high UV index like Indonesia, Oman, UAE to region having extremely low temperature like Nepal.  The application practices are diverse owing to local market practices and preference of painters/ contractors.
BU Focus on products
Across AP Global, a major drive was taken to strengthen top coat premium and ultra premium emulsion category (Royale, Apcolite, Select, Acrycoat, Apex, Weathercoat, Ultima……) both for interior and exterior. We are focusing more on color fidelity – offering close to 1800 shades across product category. Exterior and Interior product portfolio are strengthening with warranty document supported by extensive filed validation lab data as well as affiliated with high credential International standard certificates (Vinci Lab UK, SGS Singapore, WIMPI Dubai etc.
Waterproofing became the key agenda across AP Global specially Waterproofing Emulsion and cementitious product (capable to attribute both positive and negative water proofing), Ad Mixture, Repair polymer, Water proofing membrane and Sealants. New products are being launched in South Asia (Nepal, Bangladesh, Srilanka), Middle East (UAE, Oman), Indonesia and Egypt.
Luxury/Premium Emulsion category
This category typically offering promise to safe home Décor exterior as well as Interior…
Royale Health Shield (Bangladesh) / Royale Health safe (Nepal)/ Royale Atmos (Middle East): 
Country's first anti-bacterial paint having Ag ion technology (3 years bacteria killing warranty), Air purifying technology with ultimate stain resistance performance through oleophobic and hydrophobic balance. Product can demonstrate 2 hours contact killing ability with performance of 99.9% (out of 15 bacteria, 13 are passing 99.99%) certified by TUV center.
High Durable Exterior Emulsion Paint :
Ultima, Ultima Protek (Nepal, Bangladesh, Sri Lanka) Weathercoat Family (Middle East and Egypt) with 7 to 10 years warranty promise.
Premium Exterior Emulsion category:
 High durable Acrylic and Nano Emulsion Technology based topcoat having high DPUR, light fastness with 1800 color promise (Tuff – Oman/UAE/Bahrain, Apex – Indonesia/Bangladesh/Nepal/Sri Lanka, Weathercoat Classic – Egypt etc.)
Strong exterior product portfolio often leads to business contract from prestigious Govt./military projects, big villas and housing complexes from reputed builders and architects.
Premium Interior Emulsion category:
 Unmatched wash ability, hiding achievement by using transfer efficiency technology, whiteness, color accuracy and chemical resistance Emulsion system - Apcolite (Oman/UAE/Nepal), Acrycoat Emulsion (Egypt), TE – Bangladesh/Indonesia etc.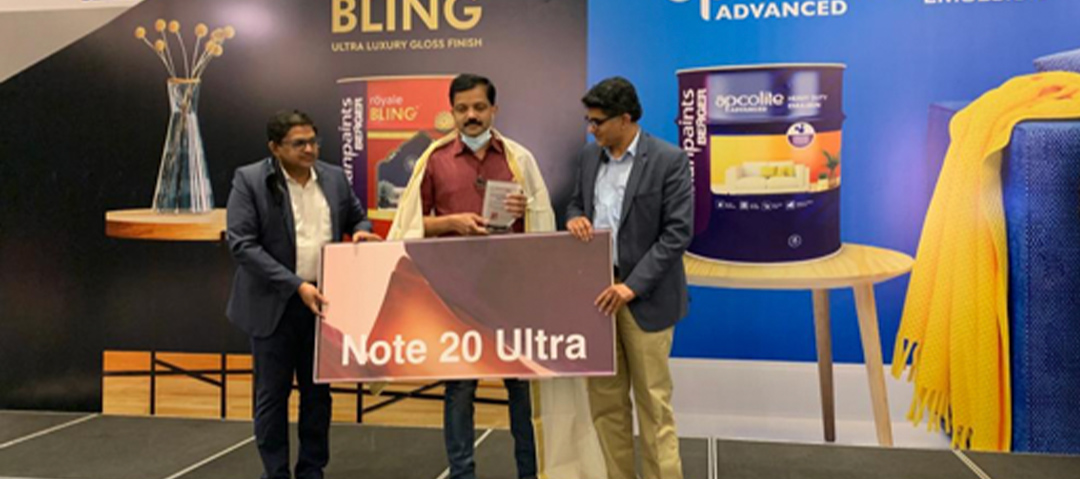 Apcolite Product launch in Oman:
PD Free Enamel Paint
All the 11 countries are offering PD free enamel paint with unmatched hiding, drying and hardness attribute with anti-yellowing performance warranty and superior finish.

Waterproofing Portfolio Enhancement:
Across AP Global has committed to establish strong waterproofing product portfolio in the area of waterproofing emulsion (sealer and emulsion topcoat), repair polymer, ad mixture, membranes and sealants etc.
Damp proof Ultra and Dampblock 2K (Indonesia) and Damp Proof Spark (Nepal):

Key Features of Damp Proof Ultra:
Warranty: Performance warranty of 12 years, which includes 12 years film integrity, 7 years waterproofing and 5 years anti-algal.
High elongation with high tensile strength: Combination of Acrylic - Styrene acrylic and Poly Urethane dispersion with Silicone – Ceramic resulting in high elongation with high tensile strength.
Other properties – Resist up to 10 bars of positive hydrostatic pressure, Crack bridging upto 2.5 mm, Anti-carbonation, Good resistance to chloride ion diffusion,
Colors available – 1200+;
Key Features of Damp Block 2K:
Waterproofing both positive and negative side of waterproofing. Resist up to 5 bars of positive hydrostatic pressure, Anti Efflorescence and Anti-Carbonation.
Other important areas in waterproofing segment is also being covered like repair polymer, ad mixtures and waterproofing membranes.

PC Products
Middle East (UAE, Oman and Bahrain) is considered strong player in PC market. Company has entire range of products light industrial, OEM, floor coating and PC. Maximum products have Third party certificates from renowned lab like Shell, Cot B.V. etc
Wood Coating
AP Global has strong presence in Wood coating segment in terms of offering NC to PU range with unmatched performance and superior finish. Asian Paints Oman is one of the pioneers in wood finish and is preferred supplier in most of the joineries across the country. It has a complete range of Clear and pigmented products for wood and allied surfaces- Acrylic PU, Acid cured, Nitrocellulose and 3-4 range of dye based stains. Recently Asian Oman indigenously developed - Flame retardant lacquer- meeting the specifications of BS 476, Part-6 and ASTM E-84 for wooden and allied surfaces.
Sri Lanka, Fiji, Bahrain and Dubai also has similar strong product portfolio in this category.
OEM and Car Refinish segments
AP Global has very strong presence in OEM and car refinish segment in Sri Lanka and Fiji.